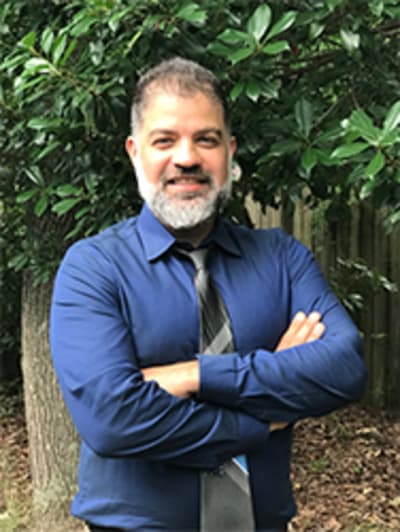 Hamid Rouhani, DDS
Dr. Rouhani is the eldest son of the family. His only other sibling, a brother named Kavosh, is 12 years younger. He finished undergraduate studies at the University of Nevada, Las Vegas in 2002. He then got accepted into University of North Carolina School of Dentistry, where he finished his degree in Doctor of Dental Surgery in 2006. He then attended a residency program at the VA in Fayetteville, NC, to achieve a certificate in Advanced Education in General Dentistry. He now serves as an adjunct faculty at the UNC dental school teaching dental students a few times a semester.
"In residency I received great exposure to many procedures. It was by far the best decision I made for my career and education. During this period I was exposed to and experienced many advanced procedures that are reserved for specialized fields such as Endodontics, TMJ, Prosthodontics and Implant Dentistry. The experience has opened many doors and opportunities for me to serve my patients with a wide array of treatments confidently while saving them time and money."
And he has not let up since. He's an active attendee at The Dawson Academy, an elite school and world renowned, advanced academy for advanced smile corrections, esthetics and treatment of masticatory system. He is also an active alumni member of the academy, meeting on a regular basis during the year to perform advanced problem solving, Advanced TMJ treatments and full mouth rehabilitations.
"In dental school I learned how to treat a tooth, at Dawson I've learned to treat a patient's masticatory system; The Dawson experience has made it possible for me to see and treat the system as a whole. It opened a whole new world of opportunities and understanding about the field I thought I was already an expert in. The mouth, TMJ, teeth and muscles that embrace them, are all part of a uniquely synchronized machine that when well-coordinated works. But for some unlucky patients, the system can get out of sync. Usually due to sub-level dental work, losing a tooth, trauma and sometimes exacerbated by stress of daily life this system can fall into disharmony. Causing TMJ pain, tooth aches, Migraines and debilitating facial pain that is rarely traced back to this disharmony. It has been truly fulfilling in my practice to have been able to treat this class of patients that are truly left out in the cold, with devastating facial pain and headaches that are never truly diagnosed and treated. I've always wanted to be 'the expert to go to,' and my experience and education is now making that a reality."
Hamid was born in Isfahan, Iran, in 1979 as the firstborn son of the family. His parents cared a lot about education from the very early years.
"I was scared to come home from school with anything less than an A+, that was just the mentality, and this didn't stop well into my adulthood years. My mom would cry and my dad would show his angry face, which trust me was good enough to scare me straight … I was a good boy!"
Because he and his family belonged to a religion not recognized by the Islamic State of Iran, they were persecuted against systematically with many members in jail, and many were not allowed post high school education or desirable jobs, so they left Iran in 1994 in pursuit of their freedom and happiness. Through a long and treacherous route, they received asylum in the U.S. and they were awarded a Refugee visa in 1997. Their first landing in the U.S. was in Las Vegas, where they were greeted by their family that had already left Iran many years before for the same reasons. When he left Iran, Hamid was only 14 years old.
"The experience has been very hard, and at many points hopeless and scary but one that I wouldn't change for anything, because it has helped me learn empathy among many other things. It is a humbling experience when you know all your stars lined up; call it luck, for me to be where I am. It gives a calming sense of faith, that it'll all be ok at the end. I believe I have angels that protect me at all times …"
"I'm on a mission to ring true the American dream, one brighter smile at a time … and to make receiving and affording dental treatment painless for our patients, that's the Bright Smile mission!"